We sell and supply biogas anaerobic digesters. Biogas is a carbon-neutral waste management solution, and allows you to do your bit to help the planet and save on power bills.
You can simply throw in any organic material into the digester and it will provide you with biogas and liquid fertilizer. Biogas is renewable energy and can be used as a Renewable Natural Gas (RNG) alternative. Ideal for cooking gas and hot water systems. You can even power a generator for electricity or run a motor vehicles similar to existing LPG/autogas cars.
A home biogas solution is an outstanding option for off-grid living, but we'd recommend them for every a family house, villa, resort, backyard, hotel, restaurant, fresh good grocery store, farm, smart home, smart estate. We are confident residential, industrial or businesses might be interested. It's basically FREE energy, while helping the planet.
We offer various size hard design biogas digesters - we use to have a cost-effective soft design, similar to HomeBiogas.com, but it's not recommanded - the membrane can tear, and the support structure is weak and not suitable for Australian conditions. The hard design solution is enclosed in a greenhouse to maximize efficiency and reduce process (aka retention) time. This design uses a stainless steel frame, sink and outlet - instead of a plastic or known existant frame like the various soft design soluitons out there - a hard design ensures a long-lasting design, protected from the elements such as weather and animals if used outdoors.
You can even use a biogas digester for human waste management. Typically people use septic tank which is similar to a biogas digester however unfortunately not designed well to produce biogas and liquid fertilizer. This is because a septic tank is low temperature and not gas-tight. So basically a biogas digester can replace a typical septic tank and should require much less maintenance than a typical septic tank, if at all. Toilet paper is made of organic material and breaks down in liquid after a period of time so shouldn't be an issue. And the urine will also be converted to biogas! Another option is to use a underground gas-tight septic tank and connect it to a biogas digester. This is called a two stage digester, where the underground gas-tight septic tank is doing pre-treatment. In this case, the bottom layer (aka sludge) from the septic tank is pumped into the biogas digester. So overall, the entire system produces less sludge and more biogas. Furthermore, less sludge means less septic tank cleaning and maintenance.
We'd recommend the system is used outdoors for warm/hot climate locations (e.g. Queensland and Darwin). For colder climates (e.g. Tasmania) we recommend the system is used indoors with the heater accessory we offer (installed within the digester). For areas like NSW - either option will likely be sufficient.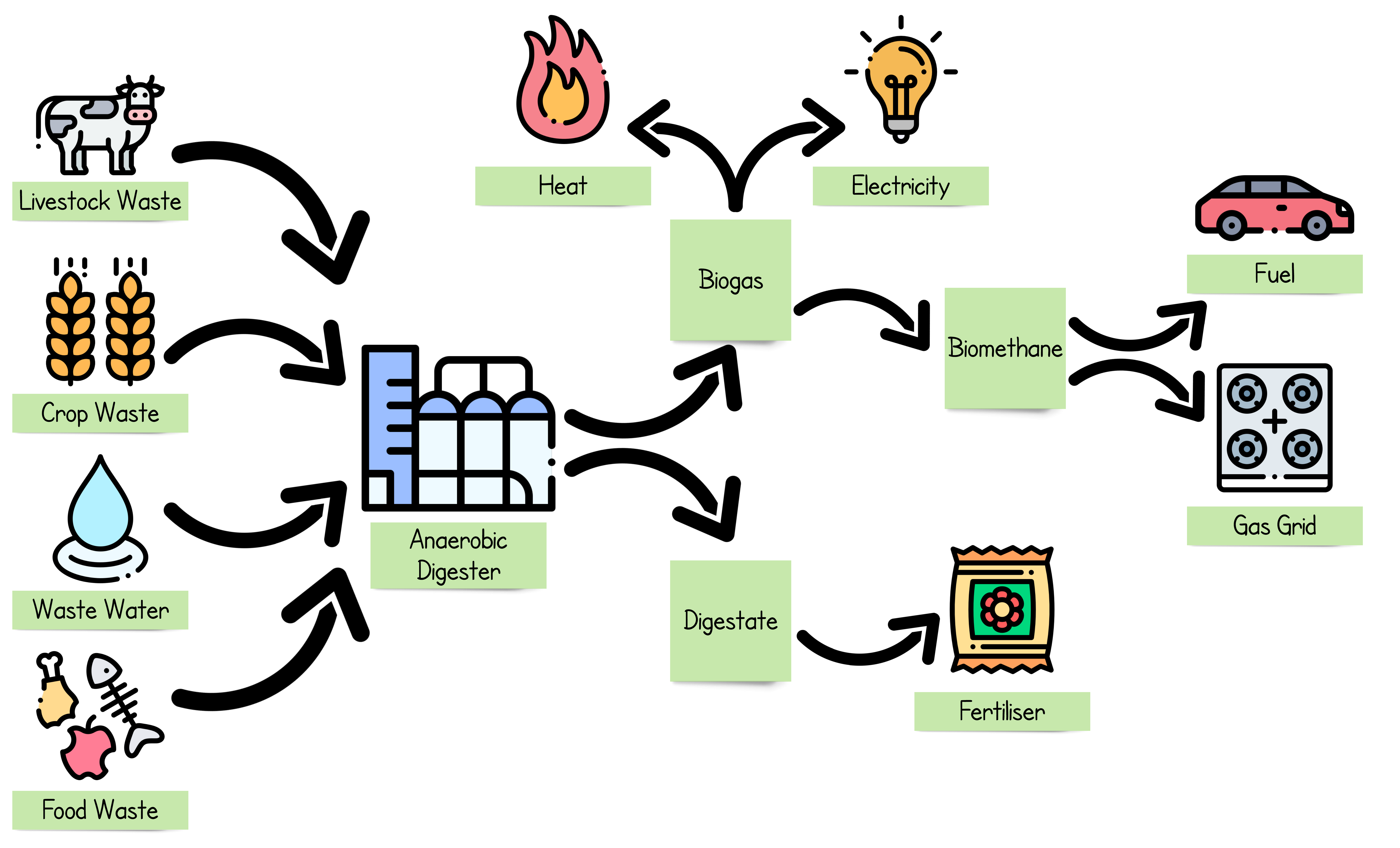 Biogas is a mixture of gases, primarily consisting of methane aka biomethane (50-80%), carbon dioxide (5-50%), hydrogen (0-1%), hydrogen sulphide (0-3%), and oxygen (0-2%) produced from organic materials such as agricultural waste, manure, municipal waste, plant material, sewage, green waste and food waste.
It should be noted that hydrogen sulphide has a rotten egg smell, and exposure is particularly dangerous for two reasons: concentrations of 800 ppm (even for just a short time) can be fatal; a person can become desensitized to the smell of from prolonged low-level exposure (meaning a person may inadvertently become unaware of exposure to concentrations that could be potentially hazardous). It is for these reasons the systems we provide include a desulfurizer (aka scrubber) to remove impurities (and therefore smell) such as hydrogen sulphide. This scrubber contains iron oxide desulfurizer pellets.
It it interesting to note that any animal/human that eats meat will have pathogens, which will increase digester process (aka retention) time to kill the pathogens. In short - a good biogas digester mimics a cows gut, so food waste, green waste and manure from herbivore animals are likely the best sources of feed for a biogas digester. All that said, meat and fish products can be fed into the system with low retention time and kill 99% of pathogens, when used in warm/hot climates or in cold climates with internal digester heater.
Greenhouse-based Solution (Hard Design)
Ideal if you want a very robust design for long-term use. See below accessory options such as biogas stove double burner, 1.5kW generator, and hot water system.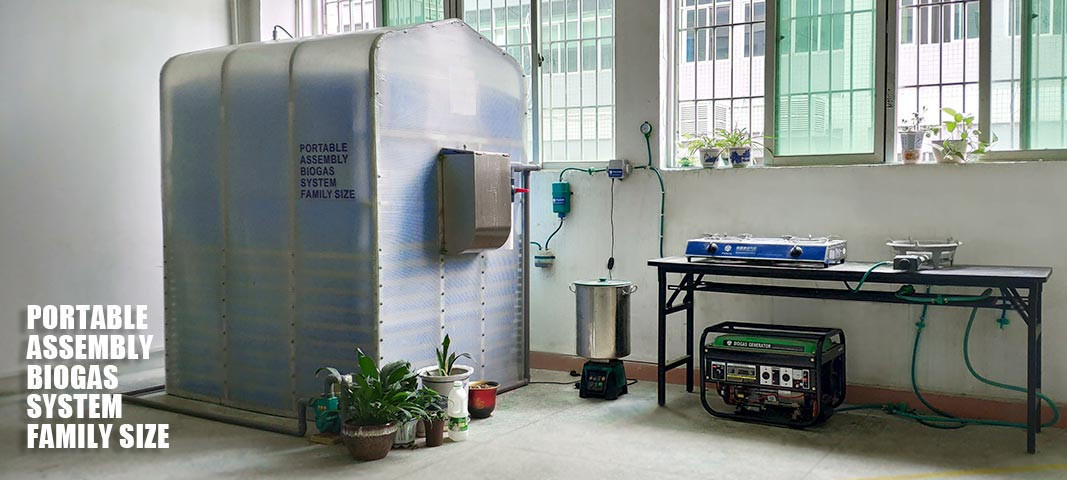 Hard Design Specifications
Postage Weight: 130kg
Dimensions: 1.95(L)x0.98(W)x1.65(H)m
Volume: 3.4m³
Bag max pressure: 30kPa
Digester/Fermentation Volume: 1.7m³
Gas Storage Volume: 1m³
Biogas Production: 2m³/day or higher (depending on organic material and suitable temperature, so perhaps 4-6 hours/day of cooking gas for one burner)
External Design: Greenhouse with Stainless Steel Frame/Sink/Outlet
Features Built-in: Biogas Filter, 240V@50Hz 20W Booster Pump
Hard Design Maximum Treating Capacity
Grass Clippings: 18kg/day
Kitchen Food Waste: 25kg/day
Rotting Vegetables: 65kg/day
Chicken manure: 26kg/day
Human manure: 32kg/day
Pig manure: 45kg/day
Cow/Horse manure: 60kg/day
NOTE: The organic material above can be either single material or mixed materials.
Common Specifications
Output:

Biogas
Clean Natural Liquid Fertilizer

Membrane Design: Anti-aging, Acid and Alkali Resistant, Rodent Resistance, Fire Retardant Properties
Minimum Ambient Temperature: 10℃
Expansion Options: Yes - multiple systems can be connected together
Maintenance Level: Easy (DIY)
Safety Level: Safe (no leaks, testers available if wanted)
Install Level: Easy (DIY possible)
Accessory Options (AUD$, ex GST)
$4005 - Biogas Generator (input biogas: 3.5m³/hr, output: 240Vac@50Hz 5kW)
$3048 - Biogas Generator (input biogas: 2.1m³/hr, output: 240Vac@50Hz 3kW)
$1954 - Biogas Generator (input biogas: 1.05m³/hr, output: 240Vac@50Hz 1.5kW)
$1353 - IR-based Methane Leakage Tester
$925 - Food Waste Shredder (input: 240Vac@50Hz, capacity: 20L)
$425 - Sewage Pump (includes cutting feature)
$255 - Biogas Hot Water System (input biogas: 1.7-2.6m³/hr, output: 6L/min, 25-500kPa, 60℃)
$212 - Electric Heater installed within for cold climates (input: 240Vac@50Hz)
$195 - Biogas Storage Bag (2m³)
$131 - Flow Meter
$76 - Biogas Stove Double Burner (input biogas: 0.45m³/hr per burner)
$71 - Biogas Fittings
$61 - Fermentation Power (3kg), if cow manure unavailable
$52 - Biogas Stove Single Burner (input biogas: 0.45m³/hr)
$28 - Lamp (input biogas: 0.07m³/hr)
$12 - Desulfurizer (aka scrubber) removes remove impurities such as hydrogen sulphide
FAQ
I have a compost - is the liquid fertilizer better?
Yes - it's concentrated and proven to provide better yield for crops. You can also throw meat and fish into the digester unlike a typical compost.
Can I use an existing LPG stove with biogas?
We'd recommend a biogas stove, however in theory you can mix biogas with LPG, to use with a traditional LPG stove.
Can I use an existing petrol generator?
We'd recommend a biogas generator, however in theory you can start the generator with petrol, then switch to biogas.
Can I use an existing LPG hot water system with biogas?
We'd recommend a biogas hot water system, however in theory you can mix biogas with LPG, to use with an traditional LPG hot water system.
What size generator can I use?
The above greenhouse-based hard design solution can produce enough biogas for the 1.5kW generator. Larger generators would require a larger system or some other biogas source such as compressed bottles.
Does the biogas hot water system water pressure match a typical home LPG hot water system?
The above 3.4m³ provides about half the flow rate and half the water pressure of a typical LPG hot water system. But if you join two of these systems together it should achieve the flow rate and water pressure of typical home. However this means more organic material to feed the digester.
Can I grow plants to feed the system?
Yes - and plants are a renewable source. We'd recommend they are shredded before putting into the digester for optimal performance (avoid digestion).
Can I compress biogas?
Yes - in theory you can use a compressor to compress biogas into empty LPG bottles, however it's not something we don't offer at this stage.
How do I start my biogas digester?
A biogas digester is best started with cow dung, which naturally contains a mix of microorganisms necessary for the biogas production process. If cow dung is not readily available, we can provide a fermentation powder starter. This product is a proprietary blend of microorganisms and enzymes. This blend often includes various types of hydrolytic bacteria, acidogenic bacteria, acetogenic bacteria, and methanogens, all of which play a crucial role in the anaerobic digestion process that produces biogas.
Do larger options exist?
Yes - we do offer larger size systems, such as 15m³. However you can join smaller systems together.
Distant Future Global Prediction vs Near Future Weather Prediction
Perhaps it's worth outlining why we can predict the distant global future with more likelihood than prediction/control of the weather over the next 7 days.
Climate change is indeed a complex issue that has been the subject of extensive research over the years. The current pace and magnitude of changes, primarily driven by human activities, are of considerable concern to the scientific community.
While there have been instances of incorrect or misinterpreted data, the consensus among climate scientists - based on a vast body of research and diverse data sources - is that anthropogenic climate change is a reality.
The push towards renewable energy is about more than just financial gain. It also involves reducing reliance on finite resources, decreasing pollution, and attempting to mitigate the impacts of climate change.
The pollution resulting from the disposal of renewable energy infrastructure is a significant concern that must be addressed. Nonetheless, all forms of energy production have environmental impacts, including the extraction, transportation, and burning of fossil fuels.
Personal experiences often reflect local conditions and may not align with global trends. Climate change impacts vary widely from place to place, as seen in the data from: https://sealevel.nasa.gov.
Global warming is part of the broader issue of climate change. The shift in terminology from 'global warming' to 'climate change' was to better reflect the variety of changes and impacts that are being observed, which include not only rising temperatures but also shifts in rainfall patterns, more frequent and severe weather events, and sea level rise, among others. More information can be found at: https://climate.nasa.gov.
Many of our insights into climate change have come from observations made from the International Space Station, just one of the many significant contributions of NASA.
Weather prediction modeling is based on complex mathematical systems, including chaos theory, which can make precise predictions challenging due to the inherent unpredictability of certain natural systems.
"The Limits of Growth" reports use modeling based on aggregate data, which can be more manageable to predict. These predictions have been generally accurate, as seen in the 1972 report's alignment with subsequent reports from 2002 and 2022. To learn more see: https://en.wikipedia.org/wiki/The_Limits_to_Growth
Different countries contribute to CO2 emissions at varying rates, with Australia being one of the highest per capita contributors. The complete list can be found at: https://en.wikipedia.org/wiki/List_of_countries_by_carbon_dioxide_emissions_per_capita
Our society's consumption-based behaviors, coupled with limited resources and an increasing population, are leading to significant biodiversity loss. Everyone can contribute to addressing this issue, and it's vital for our future generations.
Understanding complex topics like climate change can be challenging without a background in STEM fields. However, artificial intelligence tools like ChatGPT (https://chat.openai.com) can help facilitate learning and innovation.
The pursuit of knowledge is a lifelong journey, and the more one learns, the more one realizes there is to learn. This is particularly true in the realm of STEM/STEAM fields.
Population growth is a major challenge for our planet's future sustainability. It's a factor that needs serious consideration alongside climate change. In some ways, given the overpopulation issue some could argue that free choice or opinions should be restricted, however that is not conducive to open dialogue and democracy. But it is true that when the population is fewer like it was 200 years ago, free choice and opinions are a non issue in terms of herd immunity. It's perhaps worth nothing the population has increased 8x in the past 200 years alone, and we've been modern humans (Homo sapiens) for 300,000 years, according to the most recent archaeological evidence.
All cultures and countries, have valuable perspectives to offer. It's important to respect each other's viewpoints and engage in open, respectful discussions.
In conclusion, remember the wisdom of the classical era such as the Old Master (aka Laozi also romanized as Lao Tzu) and his ancient Chinese teachings of Tao Te Ching: "No matter what you do - that seed will always grow into the peach tree". In other words - it's our responsibility to care for our planet just as we would care for a growing seed. Think Taoism/positivism and perhaps consider the book "The Tao of Physics" which in some ways links the ancient East spirituality to the present-day science of Quantum Mechanics on amazing insights within the "Limits of Knowledge" such as "Quantum Entanglement", and "The Double Slit Experiment". These two topics are widly excepted by the scientific community as quantum phenomena, counter-intuitive, and challenge our everyday understanding of how the world should work based on our experiences at the macroscopic level - or in the simple, yet profound, words - "spooky" as said by Albert Einstein. Perhaps worth adding the dialogue between science and spirituality is not confined to the present. The inventor Nikola Tesla, in the late 19th century, experimented with an electronic device called the "Spirit Radio", an unconventional device that, while not scientifically verified, reflects our enduring fascination with the unknown and the unseen.
That said - "Once you have discared the impossible, what remains, however improbable, must be the truth" ~ Sherlock Holmes by Arthur Conan Doyle (Born 1859 Scotland, RIP Sussex 1930), and also repeated by Dr Spock in Star Trek. I can't see this aphorism not being true even this long after he said it. After all, "Nothing is impossible, the word itself says I'm possible" ~ Audrey Hepburn (Born Belgium 1929 and RIP Switzerland 1993), and "Make it possible, remove the IM, that's the obstacle" ~ Scott Froml (aka Kerser S.C.O.T. at age 26 in 2013 South-West Sydney).
But most importantly - "Embrace and Enjoy Life! There is no point knowing anything, if you have never experienced anything. If you have never experienced anything, you have never lived. If you have not lived, you know everything. THINK ABOUT IT!" ~ Luke Scott Cole (aka BluEy at age 21 in 2002 South-West Sydney).
Take care, and may you live long and prosper!
To learn more about Luke Scott Cole, please have a good review of these chief sources: