Biogas is a mixture of gases, primarily consisting of methane (biomethane), carbon dioxide and hydrogen sulphide, produced from organic materials such as agricultural waste, manure, municipal waste, plant material, sewage, green waste and food waste.
We sell and/or install biogas anaerobic digesters. You can throw in any organic material and it will provide you with biogas and liquid fertilizer. Biogas is renewable energy and can be used as a Renewable Natural Gas (RNG) alternative. Ideal for cooking gas and hot water systems. You can even power a generator for electricity or motor vehicles.
A home biogas solution is an outstanding option for off-grid living, but we'd recommand them for every a family house, farm and/or business. It's basically FREE energy, while helping the planet.
We'd recommand the system is used outdoors for warm/hot climate locations (e.g. Queensland and Darwin). For colder climates (e.g. Tasmania) we recommand the system is used indoors with the heater accessory we offer (installed within the digester). For areas like NSW - either option will likely be sufficient.
Unlike similar systems known as soft biogas digesters. This solution is enclosured in a greenhouse to maximise efficiency and reduce process (aka retention) time. This design uses a stainless steel frame, sink and outlet - instead of plastic - this ensures a long-lasting design, protected from the elements such as weather and animals if used outdoors.
It is possible you have seen some biogas digester systems connected to a human toliet. Humans do not produce much methane - it takes a tribe of people to produce the methane of a single cow. So these human toliet focused systems require continuously introducing fermentation powders. Furthermore, any animal/human that eats meat will have pathogens, which will increase digester process (aka retention) time to kill the pathogens. It is for these reasons - we suggest avoiding using humanure. In short - a good biogas digester mimics a cows gut, so food waste, green waste and manuare from herbivore animals are likely the best sources of feed for a biogas digester. All that said, meat products can be fed into the system with low retention time, when used in warm/hot climates or in cold climates with internal digester heater.
In the mean time you might like to do some biogas calcuations using some online tools such as the biogasworld.com biogas calculator.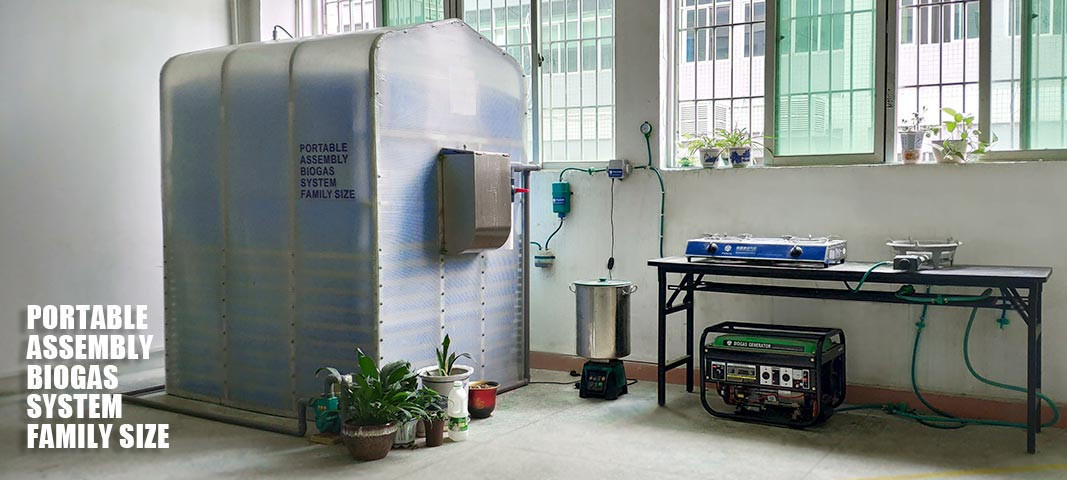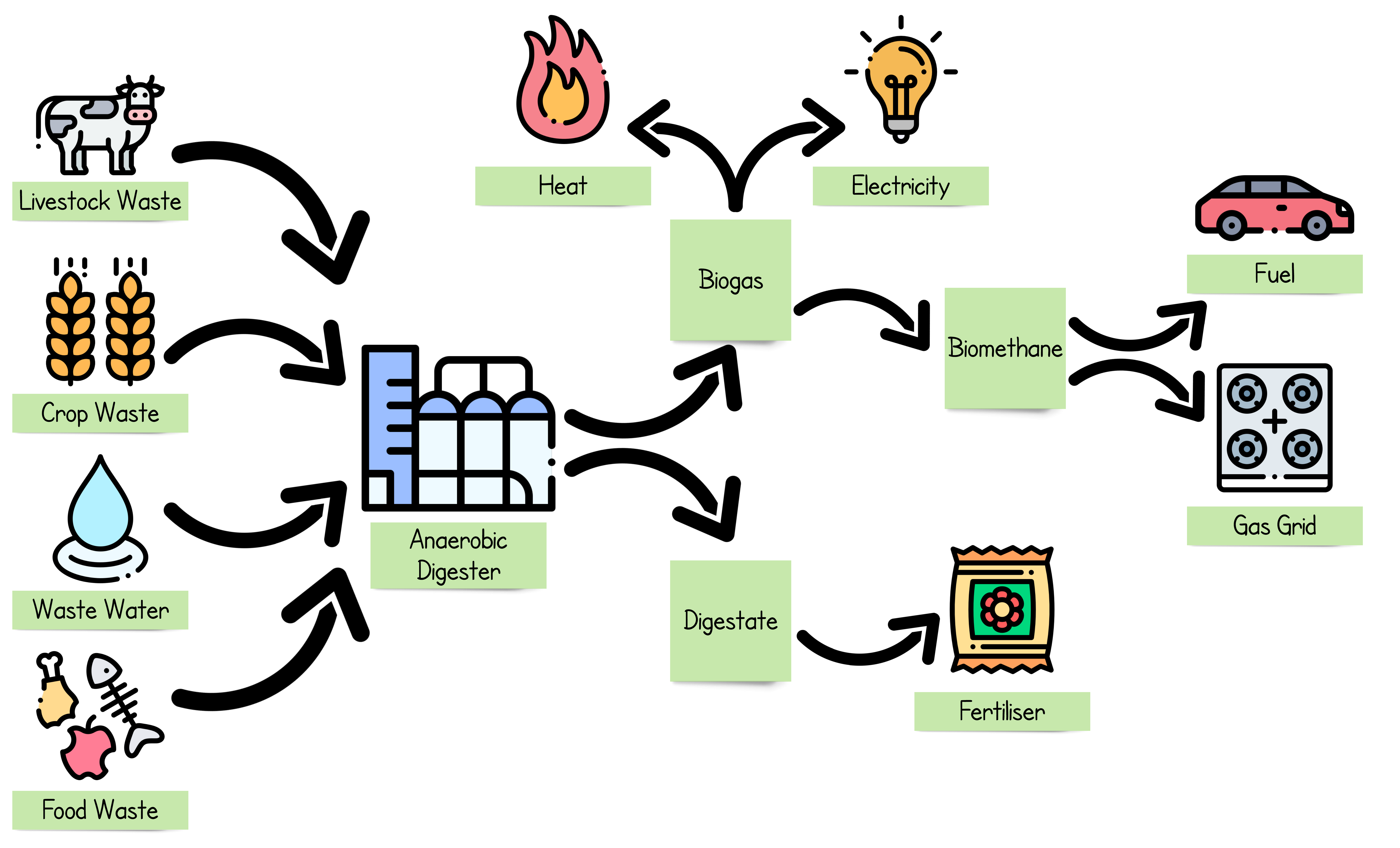 Biogas is a carbon-neutral solution. So contact us to start your installation today, to do your bit to help the planet and save on your power bill.
Specifications
Postage Weight: 200kg
Greenhouse Dimensions: 195(L)x98(W)x165(H) cm
Greenhouse Volume: 3.4m³
Digester Volume: 1.7m³
Gas Storage Volume: 1m³
Output:

Biogas (e.g. 4 hours/day of cooking gas for one burner)
Clean Natural Liquid Fertilizer

Minimum Ambient Temperature: 10℃
Greenhouse Design: Stainless Steel Frame/Sink/Outlet
Membrane Design: Anti-aging, Acid and Alkali Resistant, Rodent Resistance
Features Built-in: Biogas Filter, Biogas Booster Pump
Expansion Options: Yes - multiple systems can be connected together
Maintenance Level: Easy (DIY)
Safety Level: Safe (no leaks, testers available if wanted)
Install Level: Easy (DIY possible)
NOTE: We do offer larger size systems too such as 15m³, if you're confident you initially need a larger system.
Accessory Options (AUD$, ex GST)
$1242 - Biogas Generator (1.5kW 240V@50Hz)
$860 - Methane Leakage Tester (IR-based transmitter)
$588 - Food Waste Shredder (20L)
$270 - Sewage Pump (includes cutting feature)
$162 - Biogas Hot Water System (6L/min, 25-500kPa)
$135 - Electric Heater (installed within for cold climates)
$124 - Biogas Storage Bag (2m³)
$83 - Flow Meter
$48 - Biogas Stove Double Burner
$46 - Biogas Fittings
$39 - Fermenation Power (3kg), if cow manure unavailable
$18 - Lamp (with firemaker)
$7 - Desulfurizer
FAQ
I have a compost - is the liquid fertilizer better?
Yes - it's concentrated and proven to provide better yield for crops. You can also throw meat and fish into the digester unlike a typical compost.
Can I use an existing LPG stove with biogas?
We'd recommand a biogas stove, however in theory you can mix biogas with LPG, to use with a traditional LPG stove.
Can I use an existing petrol generator?
We'd recommand a biogas generator, however in theory you can start the generator with petrol, then switch to biogas.
Can I use an existing LPG hot water system with biogas?
We'd recommand a biogas hot water system, however in theory you can mix biogas with LPG, to use with an traditional LPG hot water system.
Does the biogas hot water system water pressure match a typical home LPG hot water system?
The above 3.4m³ provides about half the flow rate and half the water pressure of a typical LPG hot water system. But if you join two of these systems together it should achieve the flow rate and water pressure of typical home. However this means more organic material to feed the digester.
Can I grow plants to feed the system?
Yes - and plants are a renewable source. We'd recommand they are shredded before putting into the digestor for optimal performance (avoid digestion).
Can I compress biogas?
Yes - but something we don't offer at this stage.